Two people, with two different experiences…
Coming together to empower every man, woman, and couple.
I'm Jessica, co-founder of Fantastic Escapades alongside my husband, Denny
We had two very different experiences growing up. As a little girl I remember chasing boys on the playground. Being flirty in high school and college. Being silly with family and friends.

My parents openly talked with me at an early age about sex and "where babies come from". These open discussions were a foundation for a healthy sexual understanding.
My husband, Denny, had a totally different story growing up
He grew up in a religiously strict home where sex was an act of procreation not pleasure.
This wound up being an inner wound that took Denny years to heal from. And led him to one of the lowest points in his life, which set him on a journey to becoming the man he was destined to be— a man with courage, poise, confidence, and self-assurance. A man who wasn't ashamed and wanted an abundance of love, affection, and intimacy in his life.
SELF-REALIZATION, LOVE, AND INTIMACY
Deeper Intimate Connection
And it was through this journey of self-realization, love, and intimacy that we began to experiment with two of our favorite things… combining the powerful sexual health properties of CBD and lube for an explosive pleasure-filled experience to make our sex life that much better. And it has for thousands of others too.
I share our stories because between myself and my husband, you likely can relate, or fall somewhere within the spectrum of our journey. We get you. We connect with you on more levels than we likely know. And our products were designed for YOU… and to be a bridge to create a deeper intimate connection with your partner and with yourself…
To experience sexual freedom— in an exciting, experimental, passionate, spontaneous, and intimate way. To unashamedly take command of your sexuality and enjoy it for goodness sake, because life's way too short not to. I mean, the fun will end one day. So why not enjoy it now?
Listen, sex is a natural part of being a human being and you should be proud of your sexual desires and see them as a gift to those you are attracted to. It's a beautiful, life giving spiritual energy exchange that should be expressed between two people who connect with each other. And after 15 years, we discovered our favorite lubricant that has only enhanced our love-life. A hypoallergenic silicone-based lube infused with CBD. And now we are sharing it with our amazing community of sex-positive men and women inside the "Bee Hive" that is our Honeypot community.
We are honored that you choose us to be a part of your ever-evolving journey.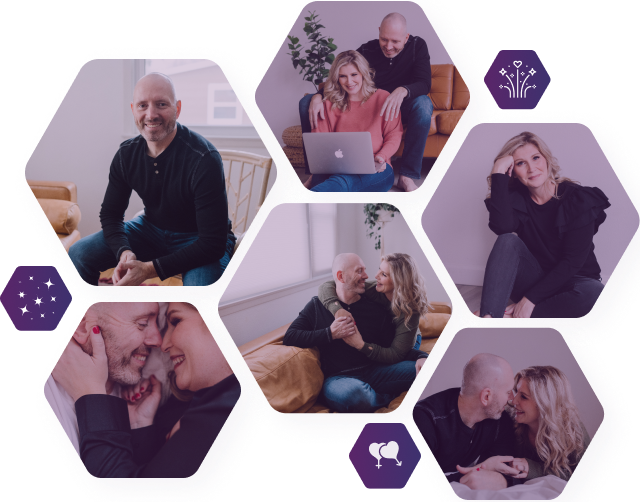 fantastic escapades
Our Commitment
We created HONEYPOT with the belief that sex and cannabidiol (CBD) are both gifts from nature that, when combined, create a powerfully passionate potion.
In short, we are sex-positive CBD fanatics who are commited to creating a space buzzing with freedom to express ourselves fully.
What does it mean to be SEX POSITIVE?
You regard all consensual sexual activities as fundamentally healthy and pleasurable.
You embrace your own sexual identity.
You are comfortable with the sexual behavior of others.
You are accepting of all sexual orientations, lifestyles, and perspectives without judgement.
You think independently about social "norms" and what society says sexuality should be.
You are unashamed.
You are unapologetically yourself.
You are responsible for yourself, your decisions, and getting your sexual needs met.
You have the right and freedom to have sex with anyone you (along with them) choose.
You embrace the decision to not have sex if you do not want.
You accept when others do not want to have sex.
What does it mean to be CBD FANATICS?
You enjoy
heightened sensations
You seek
antioxidant benefits
You prefer
reduced pain
You like reduced inflammation
You desire
increased blood flow
You enjoy
relaxed muscles
You want
improved orgasms
You pursue improved overall pleasure
fantastic escapades
Our Mission and vision
MISSION:
Deliver premium products that improve sexual
communication, enhance sexual stimulation,
amplify sexual pleasure to our heroes.
VISION:
Sex-positive heroes and CBD fanatics across
America with HONEYPOT in their bedrooms,
showers, cars, and wherever they need it most.