Happy Hump Day!
It's Jessica & Denny!
We hope you are all having a wonderful day. We wanted to share something we came across that has been so much fun for Denny and me! It has literally helped us to become more intimate and understand each other better.
I believe it is human nature to find ways to connect with others. Whether we are at school, work, out on the town, or just having a lazy day at home, we are always scanning and looking for ways to get "paired"… What do I have in common with this person who is in my life? Where is the common ground? Do we like the same things? Do we do the same things?
Are we fond of each other? Do we admire each other? What is my partner's ideal form of foreplay? Should we move in together?? Ahhhh! How will I know?
Well, we have an answer for you!
I was scanning Facebook one day when I came across an advertisement for a new app called Paired. It was an app where you could create a profile and then connect with your partner through his profile and answer questions, complete quizzes, and read and share romantic and intimate content with each other through the app's Chat function.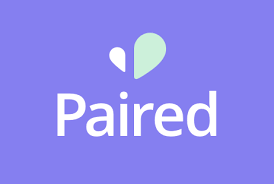 I was driving at the time when Jessica told me about this app, and it sounded really great to me, so I handed her my phone and had her set up my profile.
We've been having fun with it ever since and becoming closer and more intimate with each question or quiz that we've taken… and I'm winning!!
Yes, Jessica knows me better than I know her (this is no surprise). The quizzes are fun because they ask you questions about yourself and then ask you to answer the same questions how your partner would answer about you. This means you have to be vulnerable, but it creates a really powerful space for real conversation after both people have answered and those answers are revealed to both people.
It also creates some really sweet moments too! Just this morning, the question, "Which 3 words describe your partner best?" came up as an option for us to answer. I said the 3 words that best describe Denny were: Loving, Flirty, & Adventurous.
…and then I got notified that Jessica had answered a question. When I went into Paired to answer the question, Jessica's answer was hidden. I said the 3 words that best describe Jessica are: Powerful, Authentic, & Wildly-fun. I guess I kind of used four words because Jessica's is both Wild and Fun and it was really hard to narrow it down to just 3 words!
We were sitting across from each other at our shared office desk when Denny answered and both answers were revealed to each of us at the same time… a sweet "Awe" echoed from both of us as we read each other's answers for the first time and then we stood up and leaned across the desk to kiss!! Wooo Hooo!
It was a really great moment where we realized what we think of each other and how we see each other in life and this world.
Well, if you are not paired, we hope you get paired and then get Paired! …. and if you are paired, get Paired because you will love it!
Keep in mind two things as you consider getting Paired: 1) we are NOT affiliates for Paired (we just love it), and 2) check out Paired Pricing for the latest pricing for you and your partner.
Have a great week!
 Jessica & Denny
and the Fantastic Escapades Team